All Word Search Puzzles
Cakes and Pies

Word Search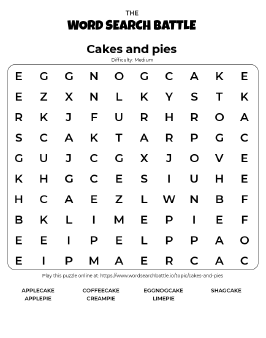 Free Cakes and Pies Word Search
Online Game
Enjoy our free Cakes and Pies Word Search puzzle online in real-time battle with your friend, or play a classic single-player game. There are easy, medium, and hard difficulty levels for new and advanced players.
Find all of the words hidden in the letter grid which relate to various types of cakes and pies.
Cakes and Pies Word Search
Printable Puzzles
Break out your pens or pencils and get your eyes ready. Free printable Cakes and Pies word search is the perfect solo activity for a rainy day for both kids and adults. All the words are hidden vertically, horizontally, or diagonally—in both directions.
Puzzle Vocabulary Words
Below you can see all possible words that the topic Cakes and Pies has.
Depends on difficulty level you select in the game amount of words hidden in the puzzle will be different.
In Easy game you have to find up to 5 words, medium game can have up to 15 words and hard puzzle can have up to 23 words.
Every time you start a new game - our word search generator will pick random words to build the puzzle.
Almondcake
Applecake
Applepie
Bananacake
Blueberrypie
Bundtcake
Carrotcake
Cheesecake
Chocolatepie
Coconutpie
Coffeecake
Creampie
Eggnogcake
Limepie
Mochacake
Pecanpie
Pistachiocake
Pumpkinpie
Shagcake