All Word Search Puzzles
Board Games

Word Search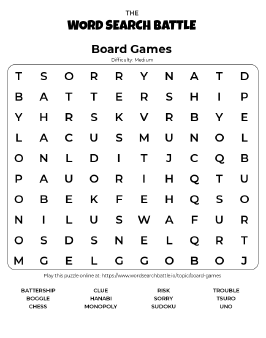 Board game lovers are already in it for the challenge, so they're certain to love this Board Games Word Search from Word Search Battle, too. This puzzle sees how well you can spot and identify a wide range of the most popular classic board games, from the ever-contentious Monopoly to the always-elusive Clue.
Play online or download and print
Multiple difficulties to test your skills
Find up to 23 words named after some of the most well-beloved board games
Free Board Games Word Search
Online Game
Enjoy our free Board Games Word Search puzzle online in real-time battle with your friend, or play a classic single-player game. There are easy, medium, and hard difficulty levels for new and advanced players.
If you like the challenge of a good board game, then you're going to love this Board Games Word Search that has you recognize and find all your favorite games.
Board Games Word Search
Printable Puzzles
Break out your pens or pencils and get your eyes ready. Free printable Board Games word search is the perfect solo activity for a rainy day for both kids and adults. All the words are hidden vertically, horizontally, or diagonally—in both directions.
Puzzle Vocabulary Words
Below you can see all possible words that the topic Board Games has.
Depends on difficulty level you select in the game amount of words hidden in the puzzle will be different.
In Easy game you have to find up to 5 words, medium game can have up to 15 words and hard puzzle can have up to 23 words.
Every time you start a new game - our word search generator will pick random words to build the puzzle.
Alias
Backgammon
Battership
Blokus
Boggle
Carcassonne
Checkers
Chess
Clue
Domino
Hanabi
Mafia
Mancala
Mastermind
Monopoly
Pandemic
Reversi
Risk
Scattergories
Scrabble
Seguence
Sorry
Splendor
Stratego
Sudoku
Taboo
Trouble
Tsuro
Uno