All Word Search Puzzles
Birds

Word Search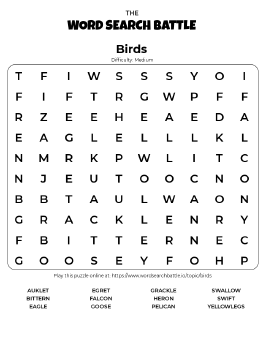 This birds-themed printable word search features some key vocabulary for learning about different birds from around the world.
As you search this online puzzle for the names of different birds, you can be sent on a journey to learn about all kinds of birds from robins to magpies.
Online and printable word searches like this one can be used as a tool to improve spelling knowledge. You can complete it yourself just for fun, use it as a fun learning tool for your own children, or, if you're a teacher, use it as a fun way to kickstart a lesson on spelling or wildlife.
If you're going to use the word search as an educational tool, why not make things even more fun by making it a competition. Offer a bird-themed prize for the winner!
This birds word search would be a great task for a rainy afternoon for the family, as part of your lesson plan on animals or local wildlife, or a relaxing puzzle for adults after a stressful day.
Looking for the names of the birds in the word search might make you feel inspired to learn more about the birds that have been hidden, especially if you come across some species of bird that you weren't previously familiar with. If you're using it as part of a lesson, test the class's knowledge of the different birds included, and look up the ones you don't know together to learn more about them. Both you and the children might learn a lot!
Free Birds Word Search
Online Game
Enjoy our free Birds Word Search puzzle online in real-time battle with your friend, or play a classic single-player game. There are easy, medium, and hard difficulty levels for new and advanced players.
Find all of the various types of birds hidden within this word search game.
Birds Word Search
Printable Puzzles
Break out your pens or pencils and get your eyes ready. Free printable Birds word search is the perfect solo activity for a rainy day for both kids and adults. All the words are hidden vertically, horizontally, or diagonally—in both directions.
Puzzle Vocabulary Words
Below you can see all possible words that the topic Birds has.
Depends on difficulty level you select in the game amount of words hidden in the puzzle will be different.
In Easy game you have to find up to 5 words, medium game can have up to 15 words and hard puzzle can have up to 23 words.
Every time you start a new game - our word search generator will pick random words to build the puzzle.
Albatross
Auklet
Bittern
Blackbird
Bluebird
Bunting
Chickadee
Cormorant
Cowbird
Crow
Dove
Dowitcher
Duck
Eagle
Egret
Falcon
Flycatcher
Gallinule
Gnatcatcher
Godwit
Goldeneye
Goldfinch
Goose
Grackle
Grebe
Gull
Heron
Hummingbird
Junco
Kingbird
Pelican
Sparrow
Swallow
Swift
Woodpecker
Yellowlegs