All Word Search Puzzles
Bible

Word Search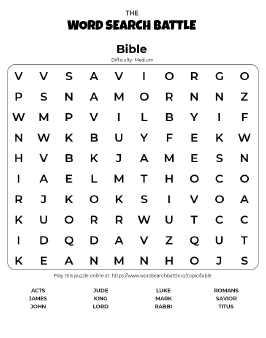 Word searches are always fun but they often lack the competitive edge… until now. Bible Word Search is the perfect game to test your brain and explore your knowledge of the Bible, all while giving you the chance to play against other players to further hone your skills. Our smart Word Search tool makes it incredibly easy to slip into games as if you've been playing them all your life.
Each game starts by giving you the opportunity to choose an avatar, give yourself a name, pick a difficulty level, and add any additional subjects you'd like to include in your search. You will be given a game code that can be shared with other plays to bring them into your game, though you can also choose to play alone against the computer. It's never been so easy to connect with your friends to play games like this.
Multiplayer or singleplayer compatibility
Three difficulty levels to choose from
No need to make an account
Countless topics to choose from
Free Bible Word Search
Online Game
Enjoy our free Bible Word Search puzzle online in real-time battle with your friend, or play a classic single-player game. There are easy, medium, and hard difficulty levels for new and advanced players.
Challenge your friends and expand your mind with this Bible Word Search game. It's never been so easy to enjoy a Word Search with friends.
Bible Word Search
Printable Puzzles
Break out your pens or pencils and get your eyes ready. Free printable Bible word search is the perfect solo activity for a rainy day for both kids and adults. All the words are hidden vertically, horizontally, or diagonally—in both directions.
Puzzle Vocabulary Words
Below you can see all possible words that the topic Bible has.
Depends on difficulty level you select in the game amount of words hidden in the puzzle will be different.
In Easy game you have to find up to 5 words, medium game can have up to 15 words and hard puzzle can have up to 23 words.
Every time you start a new game - our word search generator will pick random words to build the puzzle.
Acts
Christ
Colossians
Corinthians
Ephesians
Galatians
Hebrews
James
Jesus
John
Jude
King
Lord
Luke
Mark
Master
Matthew
Nazarene
Peter
Philemon
Philippians
Rabbi
Revelation
Romans
Savior
Thessalonians
Timothy
Titus