All Word Search Puzzles
Beverages

Word Search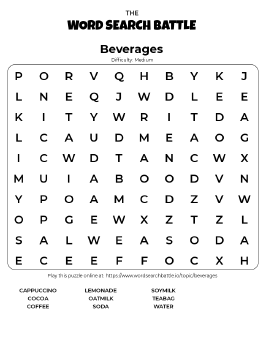 Whether you're a coffee fantastic or a lover of smoothies, this Beverages Word Search is going to test your knowledge of all kinds of drinks. It might not quench your thirst, but will definitely puzzle your mind with all manner of drinks, including lemon juice, cocoa, soda, and soymilk to find from the randomizing jumble of letters that change each time you play.
Play online or download and print
Multiple difficulties to test your skills
Find up to 23 drinks of all kinds
Free Beverages Word Search
Online Game
Enjoy our free Beverages Word Search puzzle online in real-time battle with your friend, or play a classic single-player game. There are easy, medium, and hard difficulty levels for new and advanced players.
Sate your thirst and find some of your favorite drinks with a beverages word search that includes all manner of delicious draughts.
Beverages Word Search
Printable Puzzles
Break out your pens or pencils and get your eyes ready. Free printable Beverages word search is the perfect solo activity for a rainy day for both kids and adults. All the words are hidden vertically, horizontally, or diagonally—in both directions.
Puzzle Vocabulary Words
Below you can see all possible words that the topic Beverages has.
Depends on difficulty level you select in the game amount of words hidden in the puzzle will be different.
In Easy game you have to find up to 5 words, medium game can have up to 15 words and hard puzzle can have up to 23 words.
Every time you start a new game - our word search generator will pick random words to build the puzzle.
Almond Milk
Americano
Cappuccino
Chocolate Milk
Cocoa
Coconut Milk
Coffee
Espresso
Fruitjuice
Greentea
Hotchocolate
Icedtea
Lemon Juice
Lemonade
Milkshake
Oatmilk
Orange Juice
Smoothie
Soda
Soymilk
Teabag
Tomato Juice
Water