All Word Search Puzzles
Back to School

Word Search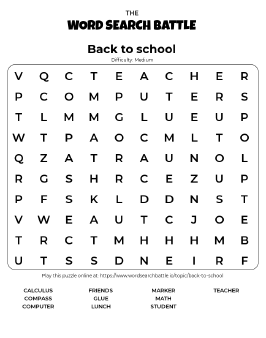 Whether the new term is about to start or the academic year has recently resumed, our back to school word search is the perfect lighthearted activity to ease students, teachers, and parents into the right mindset.
Our fun back to school word search can be completed as an online puzzle or used as a printable worksheet for the classroom or homework assignments. Better still, it offers a universal appeal that can be enjoyed by school children of all ages. And, let's face it, parents are big kids that can enjoy the relaxed puzzles too.
The back to school topic is one that we can all relate to. From creating a challenging task for five year olds to building a competitive edge and a speed task for 10 year olds, it is the ideal resource for establishing a positive atmosphere. Better still, the words included in the word search puzzle will help kids and parents ensure that they haven't forgotten any essential items for the term ahead.
Word searches are one of the best puzzles to get the brain active, and the back to school teaser is perfectly matched for returning to education after a break. For teachers, it's also a great activity to set students while preparing a demonstration or completing other tasks that require your attention.
Thanks to the choice of using printable worksheets or completing it as an online puzzle, the back to school can be enjoyed with instant results. Get the fun started by checking it out below!
Free Back to School Word Search
Online Game
Enjoy our free Back to School Word Search puzzle online in real-time battle with your friend, or play a classic single-player game. There are easy, medium, and hard difficulty levels for new and advanced players.
Classes, supplies and work as found in schools across in the word search puzzle.
Back to School Word Search
Printable Puzzles
Break out your pens or pencils and get your eyes ready. Free printable Back to School word search is the perfect solo activity for a rainy day for both kids and adults. All the words are hidden vertically, horizontally, or diagonally—in both directions.
Puzzle Vocabulary Words
Below you can see all possible words that the topic Back to School has.
Depends on difficulty level you select in the game amount of words hidden in the puzzle will be different.
In Easy game you have to find up to 5 words, medium game can have up to 15 words and hard puzzle can have up to 23 words.
Every time you start a new game - our word search generator will pick random words to build the puzzle.
Backpack
Calculus
Compass
Computer
Crayons
Friends
Glitter
Glue
Journal
Learn
Library
Lunch
Marker
Math
Notebook
Pencil
Reading
Ruler
Science
Scissors
Sharpener
Student
Teacher
Writing