All Word Search Puzzles
Art

Word Search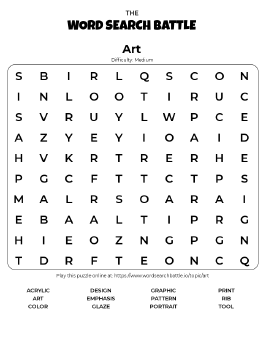 Free Art Word Search
Online Game
Enjoy our free Art Word Search puzzle online in real-time battle with your friend, or play a classic single-player game. There are easy, medium, and hard difficulty levels for new and advanced players.
These words related to art might be tricky to find.
Art Word Search
Printable Puzzles
Break out your pens or pencils and get your eyes ready. Free printable Art word search is the perfect solo activity for a rainy day for both kids and adults. All the words are hidden vertically, horizontally, or diagonally—in both directions.
Puzzle Vocabulary Words
Below you can see all possible words that the topic Art has.
Depends on difficulty level you select in the game amount of words hidden in the puzzle will be different.
In Easy game you have to find up to 5 words, medium game can have up to 15 words and hard puzzle can have up to 23 words.
Every time you start a new game - our word search generator will pick random words to build the puzzle.
Acrylic
Art
Ceramics
Color
Complementary
Decorative
Design
Emphasis
Foreground
Glaze
Graphic
Impressionist
Installation
Kiln
Lithograph
Media
Medium
Monochromatic
Opaque
Pattern
Perspective
Photomontage
Portrait
Print
Proportion
Rib
Sculpture
Tertiary
Tool