All Word Search Puzzles
Animals

Word Search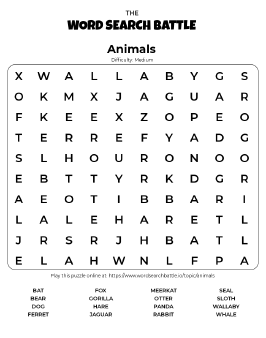 How well do you know your birds from your beasts? With this Animals Word Search hosted on Word Search Battle, you can either test your ability to recognize all kinds of animals amongst a random jumble of letters, or test your skills against different players online.
This puzzle comes in three difficulties, with players asked to find up to five words in Easy, up to fifteen words in Medium, or up to twenty-three letters in Hard. What's more, the puzzle randomizes each time you play it, so there's always a fresh challenge to be enjoyed.
From Aardvarks to Gorrilas, Llamas to Ocelots, Hares to Manatees, this puzzle will ask you to find all kinds of animals, really testing your knowledge of the fauna of the world. Download and print to play on paper or play against other players online right now.
Play online or download and print
Multiple difficulties to test your skills
Find up to 23 words all related to all kinds of creatures in the animal kingdom
Challenge friends online or play alone
Create your own avatar and username to track your best scores
Free Animals Word Search
Online Game
Enjoy our free Animals Word Search puzzle online in real-time battle with your friend, or play a classic single-player game. There are easy, medium, and hard difficulty levels for new and advanced players.
Prove yourself to be king of the jungle with an Animal Word Search that sees how well you find all kinds and species of bird and beast amongst random letters.
Animals Word Search
Printable Puzzles
Break out your pens or pencils and get your eyes ready. Free printable Animals word search is the perfect solo activity for a rainy day for both kids and adults. All the words are hidden vertically, horizontally, or diagonally—in both directions.
Puzzle Vocabulary Words
Below you can see all possible words that the topic Animals has.
Depends on difficulty level you select in the game amount of words hidden in the puzzle will be different.
In Easy game you have to find up to 5 words, medium game can have up to 15 words and hard puzzle can have up to 23 words.
Every time you start a new game - our word search generator will pick random words to build the puzzle.
Aardvark
Baboon
Badger
Bat
Bear
Beaver
Bobcat
Buffalo
Camel
Caribou
Cheetah
Chimpanzee
Chipmunk
Cougar
Coyote
Deer
Dingo
Dog
Dolphin
Elephant
Ferret
Fox
Gazelle
Giraffe
Goat
Gorilla
Groundhog
Hare
Hedgehog
Horse
Hyena
Jaguar
Kangaroo
Koala
Lemur
Leopard
Lion
Lizard
Llama
Lynx
Manatee
Meerkat
Mongoose
Monkey
Moose
Narwhal
Ocelot
Opossum
Orangutan
Otter
Panda
Platypus
Porcupine
Porpoise
Rabbit
Raccoon
Rhinoceros
Seal
Sheep
Sloth
Tapir
Tiger
Wallaby
Walrus
Warthog
Whale
Wildebeest
Wolf
Wolverine
Zebra