All Word Search Puzzles
3 Bellow

Word Search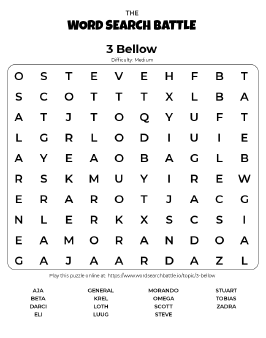 3Below word search puzzle tests your knowledge of the Tales of Arcadia universe. Find words associated with the DreamWorks Animation studio's computer-generated science fantasy television series. Pitch your knowledge of the show against the clock.
3 Below follows the story of two royal teen aliens after they crash land on Earth and struggle to blend in with humans while fleeing intergalactic bounty hunters. Show your love for Guillermo del Toro's creation and brush up on your knowledge by finding words from this action and adventure series.
Free 3 Bellow Word Search
Online Game
Enjoy our free 3 Bellow Word Search puzzle online in real-time battle with your friend, or play a classic single-player game. There are easy, medium, and hard difficulty levels for new and advanced players.
3 Below word search tests your knowledge of the show's two series. Relive your memories of Zadra and the gang.
3 Bellow Word Search
Printable Puzzles
Break out your pens or pencils and get your eyes ready. Free printable 3 Bellow word search is the perfect solo activity for a rainy day for both kids and adults. All the words are hidden vertically, horizontally, or diagonally—in both directions.
Puzzle Vocabulary Words
Below you can see all possible words that the topic 3 Bellow has.
Depends on difficulty level you select in the game amount of words hidden in the puzzle will be different.
In Easy game you have to find up to 5 words, medium game can have up to 15 words and hard puzzle can have up to 23 words.
Every time you start a new game - our word search generator will pick random words to build the puzzle.
Aja
Beta
Darci
Domzalski
Eli
General
Krel
Loth
Luug
Morando
Mothership
Omega
Palchuk
Pepperjack
Scott
Steve
Stuart
Tarron
Tobias
Tronos
Varvatos Vex
Zadra
Zeron Alpha